Africa and the UK have a long-standing relationship. The multi-layer relationship cuts across education, trade and global affairs. The African Space Leadership Institute (ASLI) and its partner organisations, are poised to strengthen space cooperation between Africa and the UK, at both country and regional levels.
Join us on 22nd November 2023, for a high-level roundtable discussion, with the theme: "Exploring Potential Opportunities for Africa-UK Space Partnership."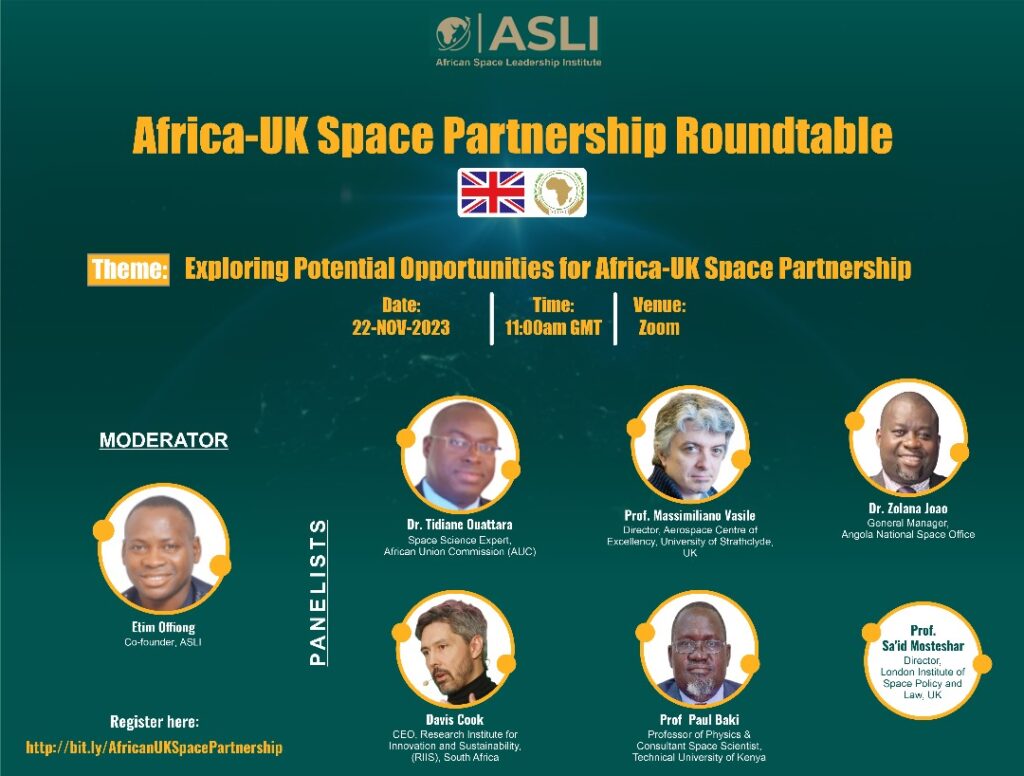 The objectives of the roundtable include:
(1) Identify possible areas of collaboration (policy, programmes and projects) between Africa and the UK;
(2) Initiate a mechanism for periodic dialogue between Africa and the UK on space-related issues of mutual interests;
(3) Gather thoughts on a framework for Africa-UK Space Partnership.
The stellar panel consists of Dr. Tidiane Ouattara, Dr. Zolana Joao, Prof. Massimiliano Vasile, Davis Cook and Prof Paul Baki.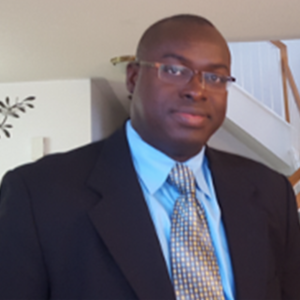 Dr. Ouattara is currently Space Science Expert and Coordinator for GMES & Africa Programme, at the African Union Commission (AUC), Addis Ababa, Ethiopia. He received a PhD and a Master's Degree, in Remote Sensing/Geographical Information System (GIS) from Sherbrooke University (Canada), in 2001 and 1996 respectively. He also holds a Master's Degree in Physical Geography from Université de Cocody-Abidjan (Côte d'Ivoire). Tidiane began his career in Canada as lecturer at Sherbrooke University from 1996 to 2001. He taught not only scientific courses, but also African geopolitics and sociocultural issues. In 2002, after a brief stint with the private sector, he started working with the federal government of Canada, where he successively occupied various management positions. Fluent in French, English and Spanish, Tidiane has gained tremendous experience in international relations and business development, research and development (R&D), strategic policy development and program management issues related to environment, natural resources, and sciences and technology.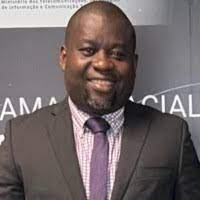 Dr. Zolana João serves as the first General Manager of Angolan Space Program Management Office (GGPEN), where he drives engineering and research challenges on communication and earth observation satellite launches with partner agencies and governments worldwide. He was instrumental in designing the current Angolan Space Strategy. In addition to launching ANGOSAT-2 into orbit to provide broadband communication services in Africa and to minimize the digital divide on the continent, he has also leveraged Earth-observing satellites to detect oil spills in the ocean and to predict agricultural crop yields, thus using space to support progress toward the SDGs. He holds a Doctoral engineering degree from George Washington University, USA, specializing in managing large-scale and complex projects.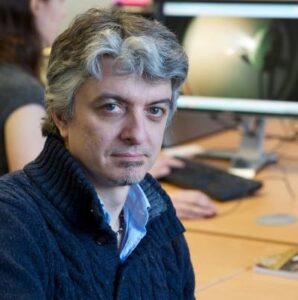 Massimiliano Vasile is Professor of Space Systems Engineering, in the Department of Mechanical & Aerospace Engineering, at the University of Strathclyde, UK. He is also the Director of the Aerospace Centre of Excellence, Strathclyde Space Cluster. He is currently leading the Stardust network on asteroids and space debris, the UTOPIAE network on uncertainty treatment and optimisation in aerospace engineering and is part of the management team of the EPSRC ENCORE network on resilience in complex engineering systems.
Davis is the CEO of the Research Institute for Innovation and Sustainability (RIIS), the largest innovation-focused advisory firm in Africa, focused on innovation ecosystem development, long term scenario planning, and strategy execution. Davis is based in Kenya where he leads the East Africa activities of RIIS and the broader Anza group, which include Anza Capital, an early stage VC fund, and the SA Innovation Summit, one of the largest tech entrepreneur events in Africa. He is the past Chairperson for ZASpace, the industry lobby group for the South African private space sector, a Karman Fellow, and an M&G 200 Young South African Leader. Davis has a diverse professional history, including global strategy and management consulting, public sector (SA local government), start-ups (renewable energy and FMCG) and corporate environments. Having worked across Johannesburg, London and now Nairobi, he has worked with multinational companies and development-focused institutions in 35 countries. His work at RIIS has helped (or is helping to) build major innovation ecosystems in mining, marine, energy, and space industries across Africa. His academic background includes undergraduate degrees in Physics and Applied Math (UP), and Politics, Philosophy and Economics (UNISA; and post-grad degrees in Development Studies (SOAS), Futures Studies (USB), and an Executive MBA from IESE.
Sa'id Mosteshar is Professor of Space Policy and Law, Director of the London Institute of Space Policy and Law (ISPL) and Fellow of the Royal Aeronautical Society (FRAeS).  A practising Barrister and California Attorney, with degrees in physics and econometrics, he advises government agencies and private operators on space policy and law. Sa'id has been a member of the UK Space Leadership Council and Adviser to its Delegation to UN COPUOS.  His awards include the International Institute of Space Law's Distinguished Services Award and the CBE for "contributions to space policy and law."
Paul Baki is a Professor of Physics at the Technical University of Kenya, Kenya. He has published over 50 peer-reviewed papers and supervised many Masters and PhD students in space physics and astrophysics. He has served in several university administrative roles including Ag. Vice Chancellor of the technical University of Kenya. He has also served in several policy-related roles in and outside Kenya, including serving as a Member of the African Union Space Working Group (AUSWG).
To participate in the event, register here: https://bit.ly/AfricaUKSpacePartnership